Charles Tillman: Lovie Wants To Stick It To Bears
November 18th, 2014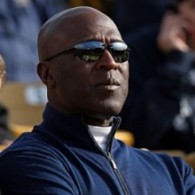 The hype already is in full swing in the Windy City with Lovie Smith returning Sunday to coach against his former Bears, the team that fired him after a 10-6 season in 2012.
Injured Bears icon Charles Tillman shared plenty about how Lovie wants to stick it to the Bears.
Joe really recommends this excellent CSNChicago video. Tillman also has a telling take on Josh McCown's leadership, ranking him as a top-5 teammate.