What Did Lovie Expect?
November 18th, 2014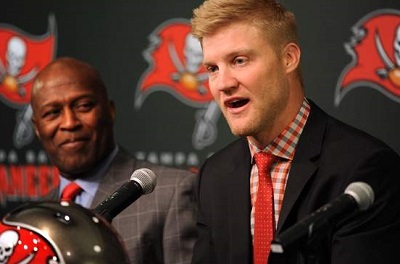 Lovie Smith says things are ahead of schedule in one area of the Buccaneers' development.
Man, that left Joe scratching his head last night.
Speaking on the Buccaneers Radio Network yesterday, Lovie was asked whether the win in Washington was "how you envisioned what Buc Ball would be?"
Lovie replied with an emphatic, "Yes." He said forcing takeaways and pressuring the quarterback were the prime indicators on defense.
But it was Lovie's offensive answer that raised Joe's antennae.
"And offensively, of course, ball security. The part we would all say we still need to still do a better job of to complete our version of Buc Ball is running the football," Lovie said. ""You know the passing part, it's come around. It's come along even faster than we thought. We need to still be able to run the football on the offensive side, and then that will be what we envision our football team looking like."
So Lovie says the passing game has "come along even faster than we thought." Wow! What does that mean? And what did Lovie expect in Week 11 from a veteran offensive line, his hand-picked veteran quarterback and the Dunkaneers receivers?
That sure was odd. There are many ways in which one could read between the lines.