Adding Zach Mettenberger To The Cheer List
November 18th, 2014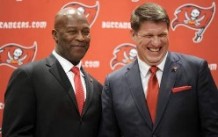 The Bucs need a quarterback with franchise-QB potential.
The song was the same this time last year.
So yes, Joe's cheering for convicted groper Zach Mettenberger, the Tennessee Titans' starting rookie quarterback who is playing way above his sixth-round-draft-pick status.
With a 2-8 record along with the Bucs, the Titans, under first-year head coach Ken Whisenhunt, have looked like a quarterback-starved franchise.
That is concerning because Tennessee might jump at the chance to take a top QB prospect who rightfully should land in Tampa.
But things are changing in Tennessee. Three starts in a row by Mettenberger against three solid football teams — Houston, Baltimore and Pittsburgh — including an impressive showing last night on Monday Night Football, has Titans fans wondering whether Mettenberger could be their guy. After all, Whisenhunt is the QB maven who drafted him.
Joe will now be cheering hard for Mettenberger, just like Joe roots for Raiders rookie QB Derek Carr and Jaguars rookie QB Blake Bortles.
Joe has no interest in those lousy teams getting the Bucs' way of drafting a quarterback come April 30, Day 1 of the 2015 NFL Draft.