Bucs Players "Havin' A Good Time"
November 16th, 2014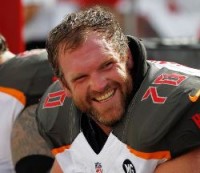 Hey, it's just a game right?
There is no real "Bucs Life," where fans live and breathe Bucs football and agonize 24/7 about losses — and the holiday gifts they're not buying with the money they spent on tickets to miserable games.
Joe's being sarcastic. Of course, there is a Bucs Life, filled with thousands of fans that take all things Bucs way to seriously — good and bad. Joe loves those people.
Just like Joe shared Josh McCown's crying about losing, Gerald McCoy's berating of teammates, and Dashon Goldson disagreeing with McCoy, Joe will share how Doug Martin told fans there are still plenty of smiles at One Buc Palace despite a 1-8 record.
Martin spoke Friday night on the Buccaneers Radio Network. Host TJ Rives was talking to Martin about his personal mindset and the team's.
"Nobody's down. Nobody's yelling at anybody. We are taking our job serious, and we're taking practice serious, but at the same time we're havin' a good time because it's a game," Martin said.

"It is a game and we want to have fun. If we do that and focus on details and just being consistent and persistent, everything will be [good] and we'll get a W."

Martin went on to say regular joking around and fun is just fine as long as things are all business in the huddle.
Once upon a time, Raheem Morris, taking a cue from Rod Marinelli, used to preach to his players they should "learn to love to be miserable." Perhaps that's what's going on now at One Buc Palace. Players are working so hard, it's making them happy in the face of adversity.
Joe can dream.