Where Are The Big Plays?
November 16th, 2014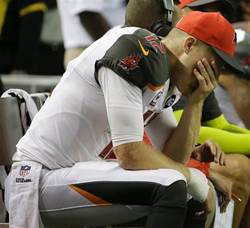 Bucs coach Lovie Smith laments how his team can't make big plays when opportunities arise.
 On defense, this is known as takeaways. On offense, there have been opportunities for a big plays, but for reasons unknown, the Bucs have been unable to connect.
For the defense, a big play here or there could have meant two or three wins. Five times this season the Bucs had leads in the fourth quarter only to see them vanish. Two of these drives came from a never-been like Austin Davis of the Rams and rookie quarterback Teddy Bridgewater of the Vikings, which made the losses all the more gut-wrenching.
In this TBO.com video, Woody Cummings of the Tampa Tribune and Oliva Stacey of TBO.com discuss what has gone wrong and focus on the lack of a handful of big plays ,which have kept the Bucs out of the race in the putrid NFC South division.