"Tough On Your Joints"
November 27th, 2014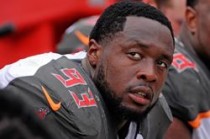 A Thursday off, a Thanksgiving off, is a rarity for NFL players.
But your Buccaneers will be stuffing their faces and watching football with the rest of us today — on the heels of a rare Tuesday practice that left its mark.
Speaking on his Buccaneers Radio Network show last night, Gerald McCoy explained that Tuesday's rain-relocated practice to Tropicana Field was not only unique for being a day earlier than normal, but it was a physical challenge. ]
Tropicana Field isn't football-friendly, McCoy said, and the full practice plus the "walk-through" was "tough on your joints."
Practicing on turf less than 48 hours removed from a road game is highly uncommon. Plus, the Bucs are used to grass.
Add in the rare Thursday off, and Joe's very interested to see how the Bucs respond to a smashmouth team like the Bengals, which feature the NFL's 7th-ranked running game. They average 30.2 carries per game.
If the Bucs are up for the challenge, then maybe Lovie Smith should stick with the unorthodox schedule.