Would Lovie Smith Survive A Two-Win Season?
November 2nd, 2014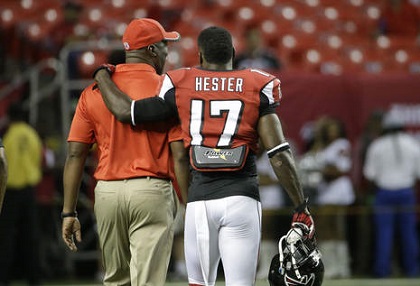 Lovie Smith is comfortable saying a team's record represents who and what it is.
So that means the Bucs are a 1-7 football team with the worst record in the NFC. If this keeps up, then Lovie would staring down the barrel of a two-win season.
Joe feels compelled to ask at the halfway mark: Would Lovie survive a two-win season?
Joe really can't answer that with any certainty.
Lovie signed a four-year contract in January with a fifth-year Team Glazer option. Word is he's earning $5 million per season. So that means cutting him loose after this season puts Team Glazer on the hook for $15 million.
Is that really a lot of money in today's NFL?
Keep in mind the Bucs likely will have to buy a new offensive coordinator after this season, a guy who likely will bring some of his own people. So they'll be turning over staff regardless.
Joe gets that the knee-jerk reaction might be that there's no way Lovie would be fired.
But is that reality? Again, Joe is uncertain. Look at the Browns, who beat the Bucs today. They ousted Rob Chudzinski after one season (2013), and they're rolling just fine now, 5-3 under first-year, inexpensive head coach Mike Pettine, who has survived the Johnny Football circus and all kinds of injuries.
If the Bucs' second half of the season is like the first half, Joe couldn't predict what would be in the hearts and minds of Team Glazer. If nothing else, the owners have shown they're unafraid of bold moves.