Bengals 14, Buccaneers 13
November 30th, 2014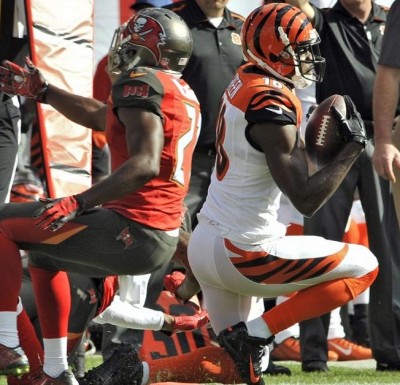 Bad teams find ways to lose consistently.
And the Bucs found a familiar one today. They crumbled late in the first half and failed to show up out of the halftime tunnel.
Welcome to Chicago. "Inept" is the first word that comes to Joe's mind.
So many penalties. It was as if the offensive line felt so much pressure to do something that they lost their freakin' minds.
The Bengals did everything they could to give the game to the Bucs. Andy Dalton played Santa Claus with three interceptions. The Bengals inexplicably tried — and failed — an onside kick late in the third quarter leading 14-10. It was an absolute gift to the Bucs, but they couldn't manage more than three points after failing to move the ball — and going backwards following an Oneil Cousins clip and an illegal snap by center Garrett Gilkey.
Josh McCown continued to play like a rookie, in what arguably was his worst start as a Buccaneer.
Seven yards of offense in the third quarter.
The Den of Depression surely lived up to its name.
Stick with Joe through the day for much more from One Buc Palace.