You Can Drop A Pass And Still Get An "A"
October 7th, 2014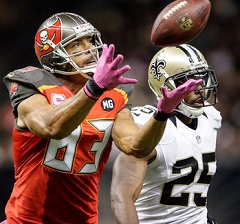 Yes, Joe's been calling Vincent Jackson "V-Drops" because he drops a pass or two every week.
There is nothing more frustrating and demoralizing for a quarterback, an offense, an offensive coordinator, and fans, than a dropped ball.
Jackson's problems started last year.
Against New Orleans, Jackson's drop came on an easy 2nd-and-5 throw close to the Bucs' 40 yard line in the first quarter. Sadly, on the next play, a 36-yard catch-and-run by Doug Martin was wiped out by Anthony Collins' illegal formation flag. And the next play, a 27-yard strike to Louis Murphy, was negated by an illegal shift.
Welcome to Bucs football.
What most intrigued Joe is Lovie Smith raving high and low about Jackson yesterday and stating Jackson got the rare "A" grade from the coaching staff.
Jackson was very strong with eight catches for 144 yards. (Here's a great highlight video of his day.) No question he had a quality afternoon. But Joe's surprised any receiver would get an "A" with a drop.
Yes, Joe knows there's much more to playing receiver than squeezing a football every time. Bucs fans learned this lesson well when Tampa Bay gave Michael Clayton $10 million guaranteed in 2009.