Lovie Compares Glennon To Michael Vick
October 7th, 2014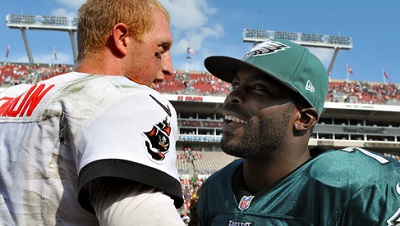 Man, Lovie Smith is loving his new toy.
The head coach had big smiles in his voice on the Buccaneers Radio Network last night.
Sunday's great Mike Glennon scramble and pass to Vincent Jackson that made all the national highlight shows and has now been viewed 437 times on Greg Schiano's iPad also had Lovie pumped up and raving about his mobile QB.
"You have routes drawn up and they're supposed to go a certain way but, you know, you can get off the script fairly quick sometimes," Lovie said. "And when a quarterback goes scrambling, you have to get open as much as anything. Of course, Mike scrambled around and threw a great play to Vincent Jackson, a great lob pass after he kind of broke off the route.

"[On the touchdown to Robert Herron] it was the same thing. Mike kept the play with his feet. You know you didn't think I would say that about Mike moving around and keeping a play going like that, he looked like Michael Vick running around on that play."
The Glennon roll-left, throw-right, touch-pass magic is on display at the 1:00 mark on this NFL.com video. The play had Joe Twittering "Mikey Football" just after the moment. It was a hell of a play.
But it was just one play, and Glennon is not a mobile QB. However, it's clear his movement in the pocket has improved over last year — maybe all the Matt Ryan film is helping — and Glennon is looking very confident as he tries to prove he is a legitimate NFL starting quarterback.