Glennon Talks About His Matt Ryan Comparison
October 7th, 2014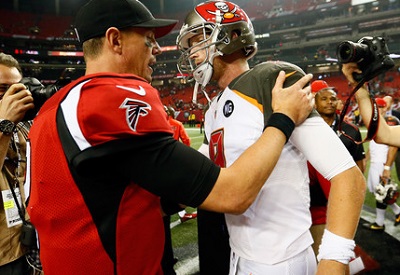 With 6-foot-6 Joe Flacco coming to Tampa on Sunday, inevitably there will be talk of how 6-foot-7 Mike Glennon could be the next Flacco.
Glennon, however, seems more focused on another quarterback.
Speaking last week on the Buccaneers Radio Network, Glennon talked about how Matt Ryan is a guy he's been studying for nearly eight years.
"The person I've probably been most compared to because of stature, the way we throw the football, is Matt Ryan," Glennon said. "I've heard those comparisons since I was in high school. When I went to N.C. State, my head coach and offensive coordinator were [Ryan's] coaches at Boston College. So I've been watching Matt Ryan film since I was 17 years old, taking back to the time he was at Boston College."
Yes, Lovie Smith and a growing-long list of ex-Buccaneers say Glennon has played very well in his two starts this season. And Glennon is 5-5 over his last 10 starts. But Joe's not about to start comparing Glennon to anyone at this point.
As for those college coaches Glennon referenced, one was Dana Bible, the guy who helped nearly make Glennon the backup to Drew Brees.