Why Is The NFC South "Putrid?"
October 20th, 2014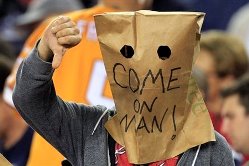 Yes, Joe has written off the season. Mock him if you will, but there is no way Joe can soberly look at the Bucs and concoct a scheme in which their pathetic play can somehow flip a switch and string together enough wins to play in January.
Sure, Joe wishes that could happen but Joe doesn't reside in a Timothy Leary daze of narcotics.
Yes, Joe knows the Bucs, despite having but one win, are only two games out of first place. That doesn't hide the fact that as of this typing, the Bucs are a disgrace — yes, when you get seal-clubbed twice in a month, and your offense cannot run the ball, cannot block and only sparingly can pass, what, is Joe supposed to compare this team to the 1978 Steelers?
The NFC South is a cesspool. And while prickly Pete Prisco of CBS Sports does his best to tongue-lash each team, he saved special words for the Bucs.
The good news is the Tampa Bay Bucs, who have won once and lost five times, didn't lose because they were on a bye.

Of course, the bye scored 30 on that defense.
Joe will give a pass to the Stinking Panthers. And the Saints. And the Dixie Chicks. They have been playoff teams, even a Super Bowl champion, in recent years.
The Bucs? Still searching for that first playoff win since Chucky hoisted the Vince Lombardi Trophy aloft in victory that chilly late-January evening in 2003. And playoff-less since 2007.