Lovie Addresses Potential Trades
October 20th, 2014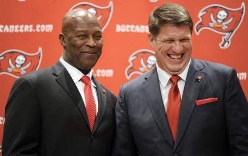 Lovie Smith says he's always eager to explore any avenue to improve the Buccaneers, though that doesn't include finding an offensive coordinator.
But does that include trades before next week's NFL trading deadline?
Lovie addressed that before the Tampa Bay pen and mic club this afternoon. No, says, Lovie. He's not looking to wheel and deal Vincent Jackson or any other Buccaneers.
"We like our football team that we're going with, that we have here right now. We're not trying to shop any of our players, to answer any questions out there," Lovie said.

"We take all calls. We don't, 'No, this area code, we're not going to take this call. We don't do that. We listen to what everybody has to say and we go from there. You see who is on our roster today, and I'd just kind of go with that."
Joe knows much of this is coachspeak, kind of like when Lovie said he was so excited to coach Darrelle Revis. Joe understands the game and has no issue with Lovie playing it.