"I Have No Comment On That"
October 20th, 2014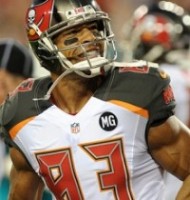 The swirling weekend NFL.com report of teams seeking the services of Vincent Jackson via trade had Joe seeking Jackson's reaction this afternoon.
The Buccaneer's captain was found in the locker room and Joe asked him for his feelings about those reports.
"I have no comment on that," Jackson said, before returning to activities on his smartphone.
Jackson did not practice today. He was on the field with his position group wearing a floppy hat. It's not uncommon for Jackson to get days off to keep his body fresh.
The NFL trade deadline is in eight days.