Traded! Mark Barron And Jonathan Casillas
October 28th, 2014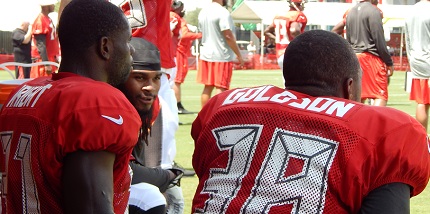 Get outta here!
The Bucs dumped disappointing safety Mark Barron, the No. 7 overall pick in 2012 — to the Rams this afternoon. Reports say it's for fourth- and sixth-round picks in 2015.
Jonathan Casillas, a proud Jersey guy and Schiano man, was sent with a sixth-round pick to New England for the Pats' fifth-round pick next year.
Yes, it's pretty stunning that the Bucs got that much for Barron.
And if you think it's a coincidence Casillas and Barron were the two Bucs punished before the preseason game at Buffalo, Joe's got a bridge to sell you.