Barron Trade Was Dominik-Like Fleecing Of Rams
October 28th, 2014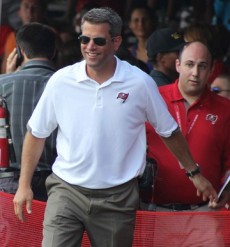 Once a upon a time, the Bucs hired a new general manager who had a disappointing No. 4 overall draft pick from two years earlier on his hands.
After letting the new coaching staff get a good sniff of the guy, that GM shipped the disappointing player to the Bears and Lovie Smith for a second-round draft pick.
Of course, Joe's referencing former Bucs rockstar general manager Mark Dominik's trade of Gaines Adams in 2009.
It was a stunning fleecing of Lovie and Bears GM Jerry Angelo. The trade today of shaky safety Mark Barron, the No. 7 overall pick in 2012, to the Rams reminds Joe of that deal.
Kudos to Bucs general manager Jason Licht and Lovie for getting two draft picks for a player they didn't want, a player who appears to be a bust.
On top of that, the lowly Rams aren't exactly going to have a low fourth-round pick.
Joe loves the deal, which Bucs fans are going to be awfully happy about come April.