THE OPTIMIST: Trust The Plan And The Drafting
October 18th, 2014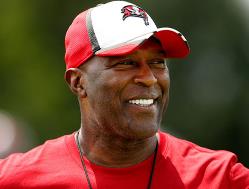 In these unsettled times of devastating Bucs losses, constant change and growing pains, Joe thought it would be wise to bring back THE OPTIMIST.
THE OPTIMIST is Nick Houllis, a Bucs fan and an accomplished writer whose steadfast allegiance to the Buccaneers goes back to the 1970s. Houllis is the founder, creator and guru of BucStop.com, a place Joe goes to get lost in time via Houllis' stunning video collection.
THE OPTIMIST will shine that positive light in your eyes. Some will love it. Some won't. … Of course, THE OPTIMIST's opinions are his alone and are not influenced by Joe.
The last Bucs game started on a positive note: a penalty on Baltimore made it 1st-and-15, Bucs fans were going wild!
Hey! You try and do an optimist column after that hot mess, the worst home performance in 39 years.
No one is blameless, certainly not Lovie Smith and Jason Licht. But first, there is nothing wrong with the defensive system. It worked two years ago (fifth-ranked in Chicago). Did you see the Dallas Cowboys, who just beat Seattle with a defense laughed at last year? They got rid of one All-World linebacker who was a bad fit, added guys who DID FIT, and let everyone else buy into the system.
That last interception by the Cowboys illustrated how a middle linebacker is supposed to drop back when coached by Rod Marinelli, Lovie's former right hand assistant coach, and Monte Kiffin up in the booth.
So if there is nothing wrong with Lovie's system, then it's got to be Lovie, right?
Building through Lovie and the draft
Well, that's right; to an extent. It was understood that Lovie Smith would be the last word with the Bucs, that he would be the one who got the groceries.
I think we all get Darrelle Revis, that his 16 million dollars could have been better spent across several areas. But there is an inherent problem with trying to build a side with free agency; you get free agents – guys who had success with another organization and changed teams for a better paycheck. That's a different make up from the guy you draft who comes into the league learning your way of doing things.
Free agents are necessary, but too many free agents during a turnover can sometimes turn ugly.
You can't blame the Bucs management, it wasn't a defensive draft. Lovie probably felt he could build the offense so Bucs fans would be happy scoring points, and coach up veterans to play respectably.
If that was the plan, it backfired, because the free agents for the most part have not mattered, on either side of the ball. Other than Gerald McCoy, there is no one with a motor on the defensive line. That MUST be addressed as Job 1 next year.
But can we trust this group to make the choices for 2015?
Yes, this regime seems to have drafted well, unlike the last regime. And there are signs they can shore up the defense next year through that medium.
Rookies are thriving
Mike Evans is the real deal. Austin Seferian-Jenkins is a big, quick tight end showing signs he will be something special, and is a valuable weapon already.
Wide receiver Robert Herron had issues with catching the ball early on but seems to have sorted that out. He has the speed variation the offense needs. Expect Charles Sims to start as soon as he is ready to come back from his injury, but all indications are he will be a name Bucs fans will hear a lot in the coming years.
So the draft was positive, and that's a major plus, because this organization is wrecked because of poor drafting. When Gerald McCoy is your oldest drafted player, and that's only four years ago, and the 2011 class will all be gone after 10 more games, there's your trouble.
It was wrong for Bucs management to sell this team as NON-rebuilding. You tore down the roster and shuffled an incredible number of players. Some were a few too many offensive linemen, and maybe special teams players that wouldn't require you to "punt high."
On offense, these youngsters will progress while the Bucs spend a year or two addressing both lines and adding talent to a talent-challenged roster, which is largely the fault of the Bucs' past management. It's not as much on the present team. So don't change them, too.