Sifting Through The Noise
October 18th, 2014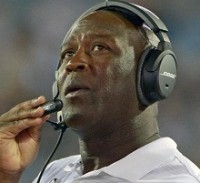 When teams endure stunning stretches of losing like the Bucs have, negativity grows like summer weeds. You pluck a bunch of those weeds with a victory, but another couple of losses adds about triple the weeds you pulled initially.
Fans want hope and want to believe, but ultimately, after so much losing, only consistent winning makes them believers.
There's comes a point when everything but winning feels like excuses. Joe thinks most Bucs fans have reached that point.
Seemingly endless Bucs losing (12-36 in their last 48 games) isn't the fault of the Lovie Smith regime, but there's no question Lovie and Jason Licht unfairly have that ugly recent history breathing in their faces.
There's been tremendous uproar this week from former Buccaneers who can't believe how atrocious the team performed after returning home from a three-game road trip. These ex-players all know there are serious problems when a team isn't responding — in October — under a new head coach.
That's downright scary. There's no way to sugarcoat it. But it's all magnified by the losing.
The crazy thing is Lovie's likely best route out of this mess will cause mass hair-pulling across the Tampa Bay area. Lovie's wisest play is to relax and stay the course with his current plan. Teach his defense through the season, evaluate current personnel in the scheme, take whatever lumps come his way, hire a new offensive coordinator in the offseason, and keep the faith that the plan will blossom next year with new pieces added.
Frankly, any different move from Lovie might somehow generate a couple of more wins this season, but it would send a huge signal to Team Glazer and the fans that Lovie has panicked. That's not going to soothe anyone.
What Joe most wants to see in the final 10 games is a Bucs team that looks like it's playing harder, smarter and nastier than every team it faces. That can be accomplished immediately, assuming Lovie can get through to his players. If the Bucs can't toughen up, especially in the trenches, then Joe's going to be left speechless.