Lovie's Advice To Page: "Stay Ready"
October 18th, 2014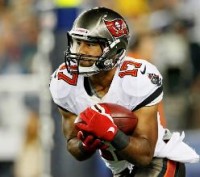 Spoiled by years with Devin Hester, it's understandable Lovie Smith might be soured by watching a mortal return man.
Lovie keeps saying how the Bucs need a greater spark from their return game, though not naming rookie Solomon Patton. And now Eric Page returned off the street last week.
Despite re-signing Page last winter, Lovie was down on Page since the spring, and the guy who was the 13th best full-time NFL punt returner last season was cut late in the preseason.
So why is he back on the Bucs' practice squad?
It makes Joe wonder whether Page will get another shot, as Lovie angles to find players that can snap the Bucs out of their collective coma.
Joe caught up to Page a few days ago to talk about his recent journey:
JoeBucsFan.com: So you got cut by the Bucs, what did you do for the past six weeks?
Eric Page: I went back to my home town of Toledo and just working out there. Spent time with some family and just working out, playing basketball, running, going to the gym, all I could do without being in football shape.
Joe: Among full-time punt returners, you were ranked 13th in the league last year. So did it shock you to be unemployed after a pretty good first season on the field?
Page: No, it didn't shock me because that's how the league is. You have to go out and prove yourself every day, and, you know, that's what I'm trying to do now and that's how I approached my time off [in Toledo]. Luckily I got a second chance. I'm looking at that to do what I do best.
Joe: Did the Bucs keep in touch with you after you were cut. I know sometimes they let players go  and tell them they might get a quick call back.
Page: When Lovie and I talked about me getting released, he just said, 'Be ready. Stay ready. You never know what we'll do, and you're going to get picked up by somebody. Stay ready and stay in football shape." My [Bucs] receivers coach gave me the same kind of message. He was confident for me.
Joe: Did you have any tryouts or pursue any other opportunities?
Page: Yeah, I had another tryout. I was thinking about playing in Canada for a little and was working with [my agent] and talking to some of the teams there. But I'm just happy to be here again.
Joe: After you got cut, did you hear any words of encouragement from Greg Schiano or Mark Dominik, or any of your old coaches here?
Page: No, I haven't talked to them or anything. No texts or anything I can remember, just my high school coaches.
Joe's not advocating for Page, but Joe is confident Lovie will be looking for any upgrade he can find at positions where he doesn't have much invested. An undrafted rookie free agent, Patton might not get all season to leave Lovie grinning at his return game.