No. 55 Wants More "Manuevering" From Glennon
October 9th, 2014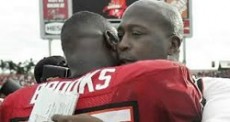 Passionate as ever for his beloved Buccaneers, Hall of Famer Derrick Brooks delivered plenty of passionate Mike Glennon talk with Steve Duemig on WDAE-AM 620 yesterday.
The Mike Glennon Mob will want to take note.
First, Brooks praised the big-arm capability of Glennon and implored the Bucs to get their running game fixed, a key to giving Glennon more opportunities to execute explosive plays in the passing game — "that will allow him to show the strength of the big arm, which he's shown at times he can deliver the ball downfield."
But Brooks also wants significant improvement from Glennon.
"Some of his limited mobility cost us," Brooks said, "where you [see] other quarterbacks maneuvering within the pocket. I'm not saying be elusive as a Russell Wilson, but be elusive enough in the pocket where you can help your linemen out and not give up a sack or may get a two or three yard game, which we saw Tom Brady do this week."

"The more snaps he gets, lets just say this, I hope one area of improvement for Mike Glennon would be his ability to maneuver within the pocket, whether scrambling downfield or buying extra time to deliver a throw that may not have been there the first time through a read in the passing game."
Regarding the Brady reference, Brooks was talking about how Brady adjusted during the Patriots' pounding of the Bengals last weekend to rush for 13 yards on four carries. In Glennon's two starts, he has one carry for zero yards.
"I'm saying the same [Brady] abilities are there for Mike Glennon at times to help out his offensive line," Brooks said.
 Yes, everyone is watching the maturation of Glennon. He's 11 more games to progress and get the regime — and Bucs icons — to go all-in with him.