Lovie Lauds Jeremy Zuttah
October 9th, 2014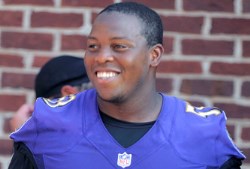 The young veteran Tampa Bay didn't think would be a better right guard than Jamon Meredith, Oneil Cousins, Patrick Omameh and, apparently, Bucs newcomers Rishaw Johnson and Garrett Gilkey?
His name is Jeremy Zuttah, starter of the Baltimore Ravens, who face the Bucs in Tampa on Sunday.
Yes, Zuttah plays center for the Ravens, but he played both guard positions in Tampa when the Bucs had a stout running game (Earnest Graham 2008, LeGarrette Blount 2010, Doug Martin 2012.)
Without being asked, Lovie Singled out Zuttah yesterday during a conference call with Baltimore media.
"On the [Ravens;] offensive side of the football, there's a commitment to the run. I think the offensive line is playing good ball, especially Jeremy Zuttah– a player that was here for many years," Lovie said.

"But to us, we need to be able to stop the run [defensively] and try not to let them get where they can run the football and pass the ball. Steve Smith … Steve Smith Sr., I guess I should say, has been a great player for a lot of years in our league. It seems like despite every year I've been coaching with one team or another, he's been on the other side of the ball, and he's just been a special player in the league for a long time"
The loss of Zuttah represents a bit of a finger in the eye to Joe, given that the Bucs still have millions in unused cash available under the 2014 salary cap. Zuttah is one of the most versatile offensive linemen in the NFL, which is why personnel guru Ozzie Newsome was willing to cough up a fifth-round pick for him this spring.
What would have been so wrong with having Zuttah on the current Bucs competing for a job?