Mikey Football Took Another Step
October 5th, 2014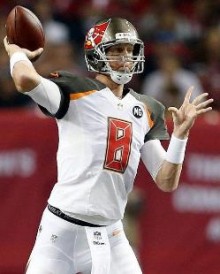 Was Mike Glennon good enough to win today?
No.
Is he still the worst starter in the NFC South?
Yes.
But Glennon did enough on the road to encourage Joe and look like a legitimate NFL starter for the second week in a row.
If nothing else, he still looks better than Josh McCown ever did in a Bucs uniform. And now at 1-4 with three division losses, there is no point whatsoever to not let Glennon play out the season as the starter. Joe felt that way two weeks ago, but now even the Glennon skeptics should be on board.
Despite V-Drops Vincent Jackson and Austin Seferian-Jenkins dropping away the first two Glennon drives in the first quarter, Glennon kept his composure and led the Bucs back to an 11-point lead in the second half.
He channeled Josh McCown with a stupid pass and was lucky not to be picked, but Glennon did a lot of good things. Also, Joe's not sure the coaching staff helped Glennon out on the -20-yard drive that ended in a safety to pull New Orleans to within three points midway through the fourth quarter.
Glennon finished 19-for-32 for 248 yards, two touchdowns and an interception.
Just like last year, the stats don't matter much to Joe. But the eye test does.
Glennon's in-pocket mobility was impressive today, and how bout that scramble left under pressure ending in a backyard-football throw to Jackson deep and back across the grain. He looked like Johnny Football 2013. Mikey Football!
Glennon did enough today to keep the Bucs wondering whether or not they should draft a QB in the first round next season. The jury is still out.