Where's The Disciplined Football?
October 5th, 2014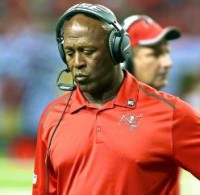 Greg Schiano blubbered about how the Bucs were the "laughingstock" of the NFL with all their discipline issues on and off the field under Raheem Morris.
But Schiano's team was terribly undisciplined between the white lines last year, and Schiano had no answer.
In comes Lovie Smith, and the Bucs look like a toddler eating an ice cream cone in July.
Their snapping of the football was an issue for the third straight game. Fifteen penalties — 15! — for 113 yards likely cost them the game today.
And then there's the drops. V-Drops was at it again, and Austin Seferian-Jenkins could squeeze the damn rock. And there were others.
Joe doesn't know why this team isn't responding to the details under Lovie Smith. It's on the players, but it is on the head coach, too.
There is just nothing acceptable about this facet of the Bucs' game. Five games into the season is way too long for this baloney.
The Raheem Morris era and that 10-6 mark with the youngest team in the NFL looks better and better this afternoon.