McCown: Consistency Is Primary Issue
October 16th, 2014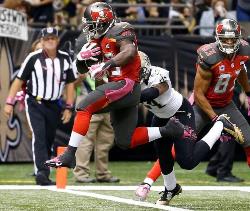 There are plenty of bright spots in the Buccaneers' 29th-ranked offense.
And this isn't just Joe injecting happy talk amid the doom and gloom coming from all angles.
This week, Joe asked Josh McCown to identify good things happening in the offense. In addition to his scouting report on Mike Glennon, McCown was clear that he's seen success everywhere.
"Guys at every position have showed the ability to make plays. It's just a consistency thing. We gotta be more consistent. That's the main thing," McCown said.
Yes, the Bucs sure have been inconsistent, averaging a little more than four points in the first half of games this season says it all.
Dropped passes have been plentiful. Bobby Rainey had a big day but fumbles a lot. Jorvorskie Lane busted a big run but his number wasn't called again. The pass protection has had great days and historically bad ones, and the run blocking effort isn't always there. Glennon doesn't play a four-quarter game.
But there are sure signs of success on offense. Joe wishes he could say the same for the defense.