"My Frustration Turned Into Anger"
October 16th, 2014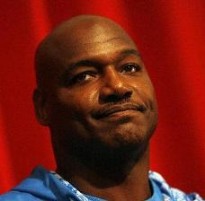 Derrick Brooks is not a happy guy. The problems on his beloved Buccaneers have brought a dark cloud over his typically glowing Bucs optimism.
Brooks let plenty hang out during his chat with Steve Duemig on WDAE-AM 620 yesterday.
"Sometimes the saying is, you are what your record say you are: I agree," Brooks said of the Bucs.

"It's to the point where my frustration turned into anger because I went from being, you know, disappointed trying to see through everybody else; everybody else is going to see with emotion and react from an emotional standpoint with the boos and the, 'Get outta here.' All that. I tried to look beyond that. And the more that I did going back and just looking at a few plays, I got upset.

"I started to get angry. Because the execution on our football team just deserves better. I'm not there on a daily basis. So I'm not going to comment on how hard the guys are working or not working. I just know more attention needs to be paid to detail. Period."
Brooks blamed "gap integrity" for many of the Bucs' defensive issues. He also gave a passionate Xs and Os analysis primarily blaming Mark Barron for the 52-yard early run by Ravens running back Justin Forsett.
"You have to get in and win your gap," Brooks implored.

"How many guys on these explosive plays are on the ground? A lot of us. Too many guys are on the ground throughout the ball game and giving up big plays. We gotta learn how to stay on our feet. Stay on your feet. You can't play on the ground."
Of course, Brooks knows a thing or two about linebacker play, and he's seen enough of tight ends dominating.
"You gotta win your fair share of battles. It can't be the distance that tight ends are separating to beat our linebackers. Jam him at the line of scrimmage," Brooks said.
Brooks also wants to see a "mentality" that's not showing up.
"And then the first play of the game, a simple fullback in the flat, if you get beat on the play-action pass, at least hit the guy. Don't let the guy run free," Brooks said. "OK, he fooled me. 'Ok, you fooled me, I thought it was a run. I'm going to blow you up, fullback, so you don't get out in the route. Because I can't get to my zone, so you're not going to get to my zone.' I've gotten beat on play-action pass before; I tackled the guy. OK, you're not getting out because I'm here with you. If they call it, they call it. But it's that mentality. I know some of this stuff, it has to be getting coached."
Believe it or not, all that came out in Brooks' first seven minutes on the air.
Joe will have more from Brooks later. For those who can't wait, enjoy the WDAE-AM 620 audio below.