Lovie's State Of The Bucs Address
October 6th, 2014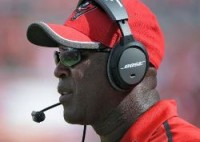 Yes, Lovie Smith stood tall at the One Buc Palace podium this afternoon and took all kinds of questions from assembled media.
Joe's already shared Lovie's takes on Mike Glennon and Lovie's effort to quash any quarterback controversy without actually quashing it.
But there was more. For those who like the unedited version. Below is the full news conference via WDAE-AM 620.
Remember to listen to Joe tomorrow at 5 p.m. on WDAE-AM 620. It's the popular "JoeBucsFan Hour" with Steve Duemig.