Lovie's Failing Grade
October 13th, 2014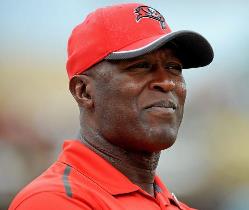 Joe doesn't give a damn if a team is learning a new defense or not. There may be a dozen teams a year that learn a new defense and they don't get seal-clubbed twice in a month the way the Bucs have been gutted.
If folks in the past bellyached about Raheem Morris' bad teams; if people screeched and howled about Greg Schiano's rough start last year, it's time to put Lovie Smith on the griddle, too.
For Lovie's team — and his treasured defense — is responsible for two of the most ghastly losses in franchise history.
Hey, Lovie puts his pants on one leg at a time just like Morris and Schiano — and Richard Williamson.
Tampa Tribune humorist Martin Fennelly is beginning to wonder if Lovie was indeed a good marriage for this Bucs outfit. Fennelly also is trying to figure out if Lovie can dig his way out of the hole he and the team have dug.
I remember saying after Atlanta that it was the kind of loss that can get an entire coaching staff fired if it wasn't for the fact that they were just three games into their jobs. Now they're six games in. Lovie doesn't do doom and gloom, but this is getting serious.

What's Lovie got to do with it? His fair share. The scary part is that most of Smith's well-meaning moves have already backfired, some for reasons beyond the Bucs control, some not. Jeff Tedford. Josh McCown. The return to the Tampa 2. Dumping Darrelle Revis. The overhauled offensive line.

Let's take that last one. Did Davin Joseph, Donald Penn and Jeremy Zuttah really stink more than this? No one is getting it done, the head coach included.
Just remember: After yesterday's beatdown, Morris and Lovie share the record for most points allowed in a four-game span: 165. For Morris, that not only ended the 2011 season but also got him run.
Lovie stated yesterday he's not done a good job of coaching. Well, that's one thing he has certainly gotten right since he was hired in January. Joe sure hopes Lovie can get this thing turned around. If Joe were handing out grades this morning, no question Lovie would get an "F" for the season.