Another Roster Upheaval Coming?
October 13th, 2014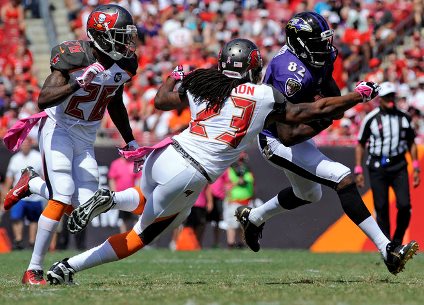 If the Bucs under Lovie Smith drop another No. 2 this season like they did yesterday, and like they did in Atlanta, one doesn't need to stretch the imagination to believe Lovie will need serious explanations for Team Glazer.
One seal-clubbing a year is enough. Two in a month? Unacceptable. A third …
Before the end of Sunday's game, Joe wondered to himself if the Bucs were going shopping big time again this offseason. Just watching the Crows, it was clear they had far more talented players than the Bucs. At times, the Bucs were just getting bullied.
After the game, Lovie strongly hinted another major shuffling of the roster is on the horizon, per Woody Cummings of the Tampa Tribune.
"We're not as talented as we need to be in some areas,'' Smith said flatly. "At the same time, in the areas where we are talented, we're taking our moments not to play our best ball.''
One could make an argument that there could be six new starters on defense next year. On offense, Joe could see another running back, maybe another receiver and who knows about the offensive line and the quarterback?
When a team is getting curb-stomped the way the Bucs are, and the coach has his heels firmly dug in the sand that he will not change his ways, that leaves few options.
One of those is personnel changes.