Derrick Brooks "Lost For Words"
October 12th, 2014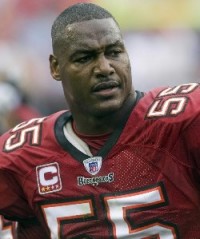 No. 55 bleeds pewter and red, and he's more connected to the Buccaneers' organization this year than he's been in any season since he was rudely cut in 2009.
Last week, Derrick Brooks was proud to explain why he thought the Bucs' defense was nearing success. This afternoon, he was rendered speechless.
Brooks took to Twitter to explain.
I am lost for words right now as I watched my @TBBuccaneers today. I with hold my thoughts until Wednesday at 4pm. Tune in to @620wdae then.

— Derrick Brooks (@DBrooks55) October 12, 2014
Thankfully, Joe's at no loss for words. "Embarrassing, shameful, and inexcusable" come to mind. So does the phrase, "giving up the booty like a South Tampa groupie."
Joe's very eager to hear Brooks talk Bucs on Wednesday at 4 p.m. with the dean of Tampa Bay sports radio, Steve Duemig of WDAE-AM 620. As always, it will be enlightening.
There is widespread disbelief and anger among Bucs fans, who can't fathom the fact that defensive gurus Lovie Smith and Lovie Smith are captaining a talented but putrid defense that is actually worse than the New Schiano Order edition.