Quarterback By Committee Approach Coming?
October 18th, 2014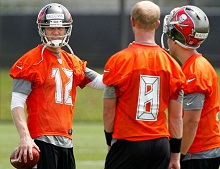 Mike Glennon may by the quarterback of the future performing OK as the quarterback of the present, but that doesn't mean Lovie Smith has lost his acquired taste for Josh McCown.
In fact, one noted former QB suspects Lovie will let them share time.
Speaking on WDAE-AM 620 this week, former Bucs quarterback Shaun King thinks Lovie might choose to experiment when McCown returns healthy.
"I think Glennon's played well enough to continue being the guy," King said. "I wouldn't be surprised if they do a committee approach to quarterback and play both of them a little bit."
King said he can see changes to the playcalling with Glennon versus McCown; the movement of the pocket has been cut back.
King added that he's no fan of that quarterback-by-committee approach, in part, because of split reps in practice, but he could see Lovie tinkering to find the best fit.
You can catch all of King's many takes via the 620wdae.com audio player below.