"There Is No Rookie"
October 9th, 2014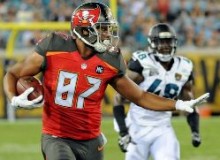 Manbeast rookie tight end Austin Seferian-Jenkins was a major letdown last Sunday.
Joe can't sugarcoat it. The young "Dunkaneer" had Michael Clayton hands but was no blocking icon.
Seferian-Jenkins' flagrant facemask of a Saints defender was one of the nastier drive-killing penalties on the day.
In the Bucs' locker room yesterday, Seferian-Jenkins was his usual stand-up-guy self. Joe enjoyed his response to a question about the penalty, and Joe liked how the rookie said "there is no rookie" on the field.
Enjoy the short 620wdae.com audio below.