"It Was Blood In The Water"
October 22nd, 2014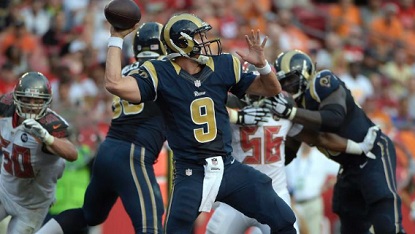 During a week when Lovie Smith is preaching a "mentality" change, quite a picture was painted yesterday of the defensive hunger the Bucs should have.
Former Tampa Bay starting linebacker Ryan Nece, a rookie on the legendary Super Bowl team, explained what a guy like Teddy Bridgewater coming to Tampa used to mean.
Speaking on WDAE-AM 620 yesterday, Nece shared tales of how hungrily Warren Sapp, Simeon Rice, Derrick Brooks, Shelton Quarles and Nate Webster prepared.
"It was amazing. You'd come into the meeting room, especially the defensive line, there was a sense of energy. There was a sense of intensity. And they would be circling this guy in the film room," Nece said. "'We are not going to let a backup come in here and beat us.' And then you would dial it up even more. A rookie? A rookie? Oh, forget about it. These guys, I never saw anything like it. I mean, it was blood in the water. There were ready to take this guy out.

"We would dial up blitzes. We would confuse him. We would harass him. And by the end of the first quarter, that rookie quarterback wanted no part of the Buccaneers defense. If this rookie comes in this week, they have to do that and they have to do it early. And if they can rattle him and hit him and, and again, I don't mind if even they get a penalty on him early.

"Hit that young quarterback and hit him hard. And they've got an opportunity to win that game."
Frankly, Joe can't imagine the Bucs not blitzing and attacking Bridgewater and the beat up Vikings offensive line early Sunday. Considering the Bucs are scoring an average of less than five points in the first half of games, they've got to try and make things happen.
The worst thing Sunday would be let the Vikings jump out to a lead and allow Bridgewater to feel comfortable.
(You can catch all of Nece's interview via the 620wdae.com player below.)