The Decision
October 22nd, 2014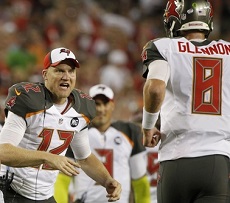 The call at starting quarterback may not come for days. Josh McCown is healthy, yet Lovie Smith says Mike Glennon provides "a lot of hope."
Joe suspects Lovie would be happy to keep the Vikings and Mike Zimmer thoroughly confused up until kickoff Sunday.
Yes, Lovie will be pounded with starting QB questions this afternoon at his news conference. Don't get your hopes up, Mike Glennon Mob. While most fans, including Joe, see no logical reason for the McCown Experiment to resume Lovie may not agree.
Former Buccaneer Ryan Nece was pounding the drum in support of McCown on WDAE-AM 620 yesterday, while former GM Charley Casserly told the local radio audience that Glennon is the only wise choice because he's a better quarterback. Even the dean of Tampa Bay sports radio, Steve Duemig, revealed yesterday that he fully supports Glennon over McCown for the rest of 2014. Former Bucs QB Shaun King believes Lovie might play QB by committee.
"The Decision" may not rival the silliness of LeBron James' made-for-TV stunt a few years ago, but expect Lovie to be more than happy to keep the drama alive.