"Diminishing Returns"
October 22nd, 2014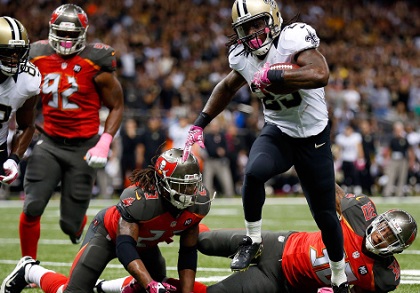 The Bucs defense has struggled mightily to get off the field, and all that extra playing time isn't helping.
Yes, Joe knows the Lovie Smith defense takes what feels like forever to master and all those snaps should be good for teaching, but Joe's talking here about the effect of fatigue.
Former Redskins and Texans general manager Charley Casserly, now an NFL Network analyst, spoke on WDAE-AM 620 this morning about how the Seahawks' defense has dropped off this season. Casserly explained that less depth on their defensive line has brought many more snaps to Cliff Avril and former Bucs stud Michael Bennett.
That's resulted in "diminishing returns," Casserly said.
There's plenty of that going on with the Bucs to a point. Lovie crafted his defense to be fast and flying to the ball. He even had everyone cut weight and body fat in the offseason. But that speed edge gets neutralized when you're on the field too long. The Bucs defense was completely gassed in New Orleans, showing up sluggish and worn late in the game.
Of course, there are no excuses for what the Bucs turned out against Baltimore and Atlanta. But in a competitive game, Tampa Bay has to find a way to move the chains and keep its defense off the field. Joe might vomit if the Bucs are a step slow chasing Teddy Bridgewater in the fourth quarter Sunday.