"I Don't Know. I Came Off The Field"
October 26th, 2014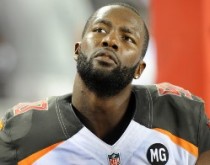 Michael Johnson was among the unhappy Buccaneers in a frustrated Tampa Bay locker room this afternoon.
But it seemed Johnson was irked by more than just the final score.
Joe asked Johnson about the Vikings' final drive, and Johnson responded curtly.
"I don't know. I came off the field," Johnson said.
Later, Joe listened to Johnson in an interview not conducted by Joe, and Johnson was acting strangely. His speech pattern almost seemed unclear and Joe doesn't want to speculate here what Johnson was referring to. It was odd.
What is clear is Johnson isn't playing like a big-money defensive end. Vikings left tackle Matt Kalil has had a rough season but was strong today. Johnson struggles to get off blocks, and the Bucs almost got more today from backup DE Jacquies Smith.