"Hawk" Tired Of Talk
October 26th, 2014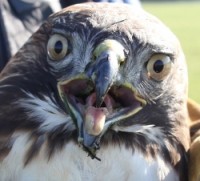 You think you were frustrated with the ugly Bucs loss? You think you are sick of the Bucs always talking about dominating and correcting mistakes and being the best they can be?
Well, so is Bucs safety "Hawk" Goldson. A visibly upset Goldson sat in his locker seething, trying his best to keep his emotions in. But he let some slip out.
In other words, Hawk wants to puke the next time he hears someone, specifically on the coaching staff, talk about "starting fast" offensively.
Hawk has had it. Want to start fast? Do it!
"Same song every week," Hawk said. "Same song every week."
As for the defense, Hawk thought he and his defensive teammates got the job done for most of four quarters.
"We got off the field a lot," Hawk said. "We didn't get any turnovers but we got off the field on third down. We got the offense the ball back a lot. I don't know what happened on that [offensive] side of the ball.
"Coaches are going to say what they are going to say. That's what you've got to do. You've got to come out of the gate. You have to start fast. We are at home. That's what we expect. We don't seem to do that."