Glennon Enjoying The "Rub Off"
October 7th, 2014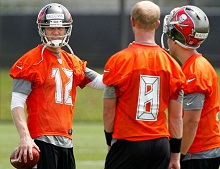 Mike Glennon doesn't have many offensive teammates who played with him last year, but one of them can identify a difference in Glennon 2.0 versus the rookie version.
Wide receiver/special teams ace Russell Shepard was a fellow rookie with Glennon and knows him well.
Shepard (two catches against Pittsburgh) sees a matured quarterback who has benefited from the old guy on the roster, Josh McCown.
"More comfortable. It's crazy how things work, man. Josh has been a great influence on him as far as his approach to the game," Shepard said of Glennon today.

"Being a quarterback, you know, just being a young player in this league, you have to learn how to be a pro's pro. And Josh, being a guy that's made it as long as he's made it, he knows how to be a pro on and off the field. You see some of the things he do rub off on Mike. Thinks like when he's not in on a certain play in practice, he's still going through his progressions. Come in extra early, staying late. Josh has really been a guy that's kind of rubbed off on him. And Mike's really made the bed to be a pretty good pro over these next few years."
Joe has questioned the impact of McCown's leadership, primarily because of how the Bucs, the team he captains, didn't show up for its lone prime time game against a division rival. That was a bad sign and inexcusable.
However, McCown surely has been a positive influence on Glennon. That's almost indisputable. Glennon is quick to talk about it.
Last year, Glennon had nine-year man Dan Orlovsky grooming him, and Orlovsky, now with Detroit, was known to have embraced the role completely. But McCown has much more experience, and Glennon got to watch McCown be a starter, as well as a mentor.
If Glennon officially takes over the No. 1 job, Joe wonders if the Bucs will pay McCown another $4 million to return next season and back up Glennon. That would be wise, but Joe's not sure the Bucs would invest in that kind of value.