Anthony Collins: Very Close In The Running Game
October 7th, 2014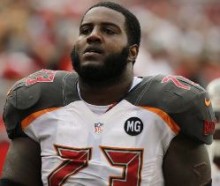 It was a focused bunch of men in the Tampa Bay Buccaneers' locker room today, and left tackle Anthony Collins was among the team leaders eager to chat.
In what surely should soothe frustrated Lovie Smith, Collins assured Joe and other media that the Bucs' struggling rushing attack is almost ready to revive.
"It'll be one guy this play, and then one guy this play, and then one guy this play, and then one guy this play, you know 10 people will be doing the right thing and it just always will be one person that the running game, you know, it works with everybody. Once we get everybody on the same page, y'all see a difference in us," Collins said. "Very close. When you look at film, we're very close in the running game.

"Man, you give Doug some room and you give Bobby some room, man, it's going to get scary."
Yes, it takes a brand new offensive line and a rookie tight end time to jell.
What's alarming is the Bucs' running game didn't face a very good defense in New Orleans, yet it was stymied, despite success in the passing game to help open things up. Life likely will get a lot nastier Sunday with the Ravens in Tampa.
Doug Martin is averaging 2.5 yards a carry.
Something has to change. Joe sure hopes Collins is accurate and that change isn't too far away.