Former Bucs QB Joins The Mike Glennon Mob
October 3rd, 2014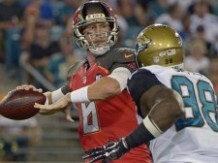 We already know Bucs icon Warren Sapp is 100 percent all-in with Mike Glennon as the Tampa Bay starting quarterback for the remainder of 2014.
Plenty of other ex-Bucs and top NFL analysts also are finished with the Josh McCown Experiment.
And now a former Buccaneers quarterback has requested a membership card in the Mike Glennon Mob.
Shaun King, one of three Bucs QBs to lead the team to the NFC Championship game, said "absolutely" there is no quarterback controversy in Tampa.
"I think Mike Glennon, it's his job to lose. You know I think Lovie brought Josh McCown in as much for his locker room presence, as he did expecting him to go out and duplicate what he did last year in Chicago. I just think Lovie saw a team that didn't have a veteran presence and wanted to bring a good guy in, Josh is a good guy, to have in that locker room," King said on WDAE-AM

"If Glennon plays well, this is Glennon's job. If Glennon doesn't play well, then the Bucs will be drafting a quarterback next year in the first round. I don't think there's a whole lot that Josh could do when he came back, that would make the Bucs not go quarterback in round 1 next year. But if Glennon plays well, that eliminates that problem going forward."
You can listen to King's full take below. Of course, Joe is on board here. Don't misunderstand, Glennon has much to prove to show the Bucs don't need to draft a guy with "franchise-QB" potential. Don't lose sight of the goal: a Super Bowl.