"Try To Hit Me, You Know, With His Eyes Closed"
October 3rd, 2014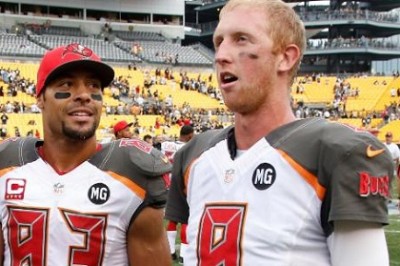 Vincent Jackson raved about the work ethic and preparation of Mike Glennon yesterday, saying it was clear from the day Glennon took over as starter last year that the young man had the right look in his eyes and was prepared.
V-Drops V-Jax has experience around driven quarterbacks.
Already a Pro Bowl star for the Chargers, Brees was the QB there when Jackson was drafted by San Diego in 2005.
Yesterday, Jackson shared a story from those days, while talking about what a fierce competitor the Bucs will face Sunday in New Orleans.
"I remember being a rookie, [Brees] used to line me up in different places on the field and close his eyes, you know, after practice, and take drops and try to hit me, you know, with his eyes closed," Jackson said. "He's just one of those guys who never wants to see a ball hit the ground."
Yes, Drew Brees is a certain Hall of Famer, but he's beatable. And, as Jackson pointed out, he'll take plenty of risks. Somehow, some way, the Bucs secondary likely will have to find a way to squeeze their first interception of the season in order to win on Sunday.
You can see Jackson deliver various takes, via this SportsTalkFlorida.com video below.