Those Who "Legitimately Change The Game"
October 3rd, 2014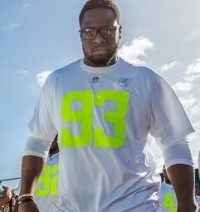 It warmed Joe's heart to hear Sean Payton's Thursday news conference when the head coach went on and on about how Lavonte David should have made the Pro Bowl last year and is a true every-down superstar.
Former Super Bowl winning coach Brian Billick took his praise for Gerald McCoy one step further.
Remember, it was Billick who predicted McCoy's return would stop the Steelers' power running game in its tracks last Sunday.
And then Billick penned a column for NFL.com exploring the players who "legitimately change the game" when they step on the field and keep opposing coaches from sleeping.
McCoy and J.J. Watt were the two defensive linemen he selected.
The Pocket Destroyer

 As mentioned above, the best pure edge rushers have terrorized offenses for years — hence, the gargantuan salaries for elite left tackles. But the newest defensive trend is to have a guy who applies pressure on the quarterback from the middle of the protection scheme, knifing through the A and B gaps, like the Houston Texans' J.J. Watt or Tampa Bay Buccaneers' Gerald McCoy. If you expend too many assets "pinching" in protections to help the guards/center, then you find yourself continually isolating your tackles, leaving them to go one-on-one against athletic defensive ends without help. Even the rush ends who aren't dominant are going to win their share of one-on-one battles. Watt and McCoy also move all along the defensive line, so you have to guess where your help needs to be.
.
It's sometimes easy to take McCoy for granted. Bucs fans have gotten used to his dominance.
.
McCoy very likely is giant key to the Bucs success Sunday. As Billick writes, McCoy can screw up the rhythm of an offense by blowing it up from the inside out.
.
However, the Saints' defensive line has had plenty of success with McCoy. Sean Payton and Drew Brees know exactly what's coming from McCoy, and they've managed to keep him contained in the past. The Bucs will need another big day from other defensive linemen, like they got in Pittsburgh.