"We're Ready For This"
September 29th, 2014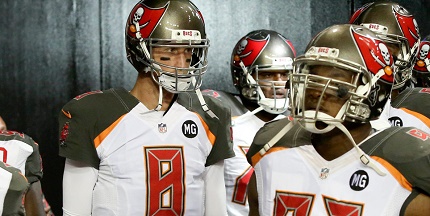 Is Bucs starter Mike Glennon commanding the huddle?
After yesterday's heroic victory, Glennon got on the phone and talked about his huddle banter with Big-Ten-Network-hating, pedestrian-bumping, olive oil-lapping, popcorn-munching, coffee-slurping, fried-chicken-eating, oatmeal-loving, circle-jerking, beer-chugging, cricket-watching, scone-loathing, college football-naïve, baseball box score-reading, NPR-listening, filthy-hotel-staying, fight-instigating, barista-training Peter King, of theMMQB.com and NBC Sports fame.
Glennon, with the game on the line, had words for his offense.
"Tampa Bay had the ball at the Steelers' 46, no timeouts. And with star rookie wideout Mike Evans out with a groin injury, a player the Bucs just signed last week, Louis Murphy, was in the huddle. "I just said, 'We're ready for this. Let's go. We need chunks.' On second down, that famous Buccaneer combination, Glennon to Murphy, clicked on a 41-yard stroke up the right seam. "He was with us in camp," said Glennon. "Great competitor. He stepped right in this week like he'd been there all along." On third-and-goal from the five Glennon fired a pass to the left side of the end zone, and Vincent Jackson, who had come free, held on while hitting the ground with a thud. Glennon, the former North Carolina State starter (he pushed Russell Wilson out), called it "the most monumental win I've been a part of." And the most unlikely outcome of the year, the 0-3 Bucs beating a team that destroyed Carolina on the road last week.
And so the legend of No. 8 grows, as does the Mike Glennon Mob.
When asked once about leading an undisciplined team, Raheem Morris offered a great comeback. He told the questioner that undisciplined teams don't have fourth-quarter comebacks and execute in the two-minute offense like his teams did often with Josh Freeman. Doing that, Raheem said, is a mark of great preparation and discipline under pressure.
Yesterday, Glennon showed he's got the discipline and internal strength to put a team on his back. It was a great sign, one that's necessary to win in a league whose games are typically decided by one score.