Jason Licht Stuck His Neck Out
September 29th, 2014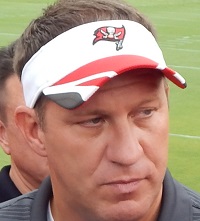 Let's not forget that sports is entertainment and straight-shooting communicators really make everything more fun and exciting.
So Joe really must commend Bucs general manager Jason Licht.
Licht hopped on the Buccaneers Radio Network about 20 minutes before kickoff yesterday and didn't hold back.
Despite his 0-3, banged up Buccaneers entering the Terrible Towel cauldron of Heinz Field, a thousand miles from the warm cleavage of Raymond James Stadium, Licht let it all hang out. He didn't back off the challenge at hand and made no attempt to soften his expectations or censor bold predictions.
Licht started his talk with Gene Deckerhoff issuing a no-excuses proclamation and said nothing in the Bucs plans has changed and the Bucs expect to win now.
"It's gut check week. We're going to see what we're made of here," Licht said. "We'll see a different football team today."
That was all pretty cool.
It was Licht's first public chatter since the Atlanta debacle, and Licht said the Bucs all spent "a half day to lick our wounds" and "we needed to mourn." But explained the 10 days between games was welcome time to right the wrong."
After the game, Licht was all pumped up in the happy Bucs locker room.
Joe recorded some of Licht's chatter. Your can hear it below via WDAE-AM 620.