Pass Defense Rivaling 2012 Nightmare
September 29th, 2014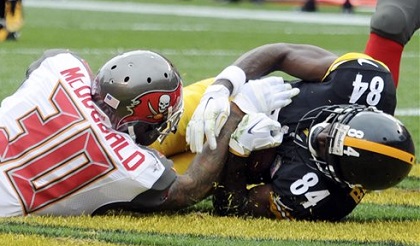 If the Buccaneers are going to win a lot more games, they absolutely have to fix their pass defense.
Tampa Bay is giving up the booty faster and more furiously than the groupie hotties that follow Bucs players around South Tampa bars.
Joe realized yesterday that he's seen this dance before. It was when the Bucs came inches from a dubious NFL record. The year was 2012, when Greg Schiano referred to his cornerbacks as "E.J., Leonard, Danny and LeQuan." (Please don't make Joe type up their last names.)
Those guys allowed 298 yards per game through the air, second worst in league history.
This year's Bucs are allowing 272.5 yards per game, currently ranked 28th in the NFL. If Steelers wide receiver Mike Brown catches the flea-flicker bomb in his hands yesterday, then those numbers would be even uglier.
(Can we cover a damn tight end, please!)
What makes the totality of the pass defense stats scarier is the fact the Bucs sacked Ben Roethlisberger five times in the first half — five! — plus they got OK pressure through much of the game. That makes things look even worse for the Bucs secondary.
Joe's even debated nicknaming Johnthan Banks "Pillow" or "Charmin" for the softness of his coverage. Not yet, though.
Dave Moore, the former Bucs tight end and Xs and Os guru of the Buccaneers Radio Network, said today on WDAE-AM 620 that a major factor is opponents have been exceptional against the Bucs using play-action. Bucs linebackers are biting over and over and over, Moore said.
Moore suggested mixing in more man-to-man coverage of receivers.
Joe hopes Lovie finds a way to fix it fast. It sure looks like there's an awful lot that can be coached up.
As for the safeties, well, what can Joe say about Mark Barron. He was part of that inept bunch in 2012, as well. Dashon Goldson is hurt again, and Major Wright and Bradley McDougald aren't the answer.
Even in a loss yesterday, Drew Brees found a way to throw for 340 yards on the road. The Bucs head to the Superdome on Sunday.