Weak Stats Reference By Lovie Smith
September 8th, 2014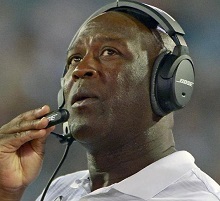 Stats are a funny thing. Some think they're "for losers," as Raheem Morris claimed. Others swear by them, and teams even employ "analytics" departments (Bucs included) to spreadsheet every last thing to search for an edge.
But stats are also worthless at times, jibberish junk food for the brain. Lovie Smith evoked one of those yesterday.
Following the loss to Derek Anderson and the overhauled and overturned Panthers offense, with their new receiving corps, new offensive line and new starting quarterback, Lovie offered a take on the Panthers beating the Bucs defense too often on third down.
"It affected us a lot," Lovie said. "We had a 3rd-and-long situation, and we can't give up those. You look last year, and I think they were fourth in the league. So they normally stay out of third and long situations. So, they have been – that's kind of who they are. We had opportunities across the board. I would like to have a lot of the decisions back that I made today. We'll all get better for next week."
Hmmm, how exactly did Carolina's third-down offensive stats last season have anything to do with what happened yesterday?  "That's who they are," Coach? Really? Again, the Panthers rolled out a new QB, new receivers and a new offensive line.
Joe knows what Lovie would say if asked about last season as it referenced his Buccaneers' pass rush (or anything else about the Bucs), which pressured the QB yesterday as poorly as it did in 2013. Lovie would say last year is irrelevant, and Joe would agree 90 percent of the time.