Yesterday, Today And Tomorrow
September 8th, 2014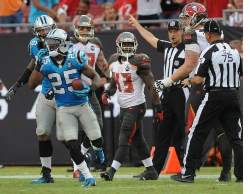 A long look at the Bucs yesterday, today, and what to expect tomorrow and beyond.
Towards the end of the third quarter, Joe could not believe what he was watching. Joe has seen some awful Bucs quarterbacks in person.
Trent Dilfer still gives Joe nightmares he was so awful. Maybe Joe should seek therapy?
Witnessed Son of Bob, who was a pick-six waiting to happen. If you laid cash on a pick happening every time Son of Bob threw to the sideline, you'd have more cash in your pocket than you did when you started wagering.
Joe once watched Rob Johnson, who Chucky tried and tried and tried to find an excuse to start at quarterback over Brad Johnson. Yet even stubborn Chucky could see how awful he was.
Yes, even last year, mostly against teams with strong defenses, Mike Glennon looked lost.
But in none of those games, none, zero, did Glennon look as out of place as Bucs starting quarterback Josh McCown did yesterday. This is supposed to be the leader of your offense, a guy who treated the football as if it was contaminated with the Ebola virus?
Time and again McCown was headed for the ground and he simply just lolly-popped the ball in the air in a fit of panicked desperation. It was fortunate he only had two picks.
An 11-year NFL veteran? Joe has heard people say McCown looked like a rookie. No, he looked like a high school sophomore. Joe was so blown away he even Twittered after that ghastly fumble/interception late in the third quarter that McCown needed to be pulled. Somebody had to settle him down or get someone in there (Glennon?) who wouldn't treat the football like a bocce ball.
No, McCown never had much of a running game. No, after Logan Mankins went down, McCown didn't get elite blocking, but not horrible blocking, either. That does not excuse how careless McCown was with the football.
It felt like the worst performance by a Bucs quarterback on the grass of the Stadium on Dale Mabry Highway since it was opened in 1998.
So an 11-year veteran has to be taught to live and play for another down when in distress? A 35-year old quarterback has to be told not to just toss the ball in the air when he is getting sacked?
Mind you, this was Lovie Smith's hand-picked quarterback. A guy who was this skittish, this irresponsible, this panicky?
Patterns continue
For whatever reason, McCown (thankfully) calmed down and damned near pulled the Bucs out of the hole and into a win column. Now while Joe despises preseason football, there is a pattern here.
The first team offense largely was non-existent in the preseason until it revived after an ugly start in Buffalo, the season dress rehearsal. That's about what happened yesterday.
On defense? Michael Johnson, Mr. 24 Million (Nah-AH!) was largely a non-factor in preseason and training camp. What happened Sunday? You had to use binoculars and a program to make sure there was actually a No. 90 on the field.
Joe almost hates to write the following, but notice that last year in the preseason the Bucs offense was pretty horrible? Along came the regular season and guess what? The offense was still horrible, no matter who was the quarterback.
And here comes the PO'ed Rams into town in six days, angry after getting slapped around by the lowly Vikings. The same Rams that have a physical front line defensively, just like the Stinking Panthers.
Oh, boy.
The first thing that needs to happen is Bucs coaches need to simmer down McCown. There simply cannot be a repeat of the same crap he pulled Sunday. If McCown is going to continue to force plays by blindly tossing a pass in the air as he is going down, hoping it is volleyballed in the air long enough for a teammate to grab it, then hat goes against everything Lovie stands for about turnovers and protecting the ball.
If McCown can't break that nasty habit, then you may as well bring in Glennon. At least Glennon won't act like a high school sophomore panicking on the final play of the game, throwing the ball up in the air just hoping a teammate can grab it.
Simply put, for three quarters Sunday, McCown was the worst Bucs quarterback Joe has seen. He was worse than Blaine Gabbert.
Atkins Diet
Bucs fullback Javorskie Lane had one of the best plays of the day. His run up the middle seemed to catch the Stinking Panthers totally and completely off guard. In what most cases would have been a short gain, Lane found a running lane so wide open (thanks to Patrick Omameh and Demar Dotson), he rumbled down the right sideline for 54 yards before running out of gas.
But Lane was so hacked off about not scoring, he said he's going on a diet, saying "If I was 10 pounds lighter, I might have scored."
Position To Win It
We can rag about how ragged McCown was for three quarters. We can yell and holler why Michael Johnson was impersonating a pass rusher. We can bellyache how there was no running game to speak of.
Still, the Bucs had a chance to win when safety Dashon Goldson had an interception in his hands that likely he would have  been a pick-6, or at worse put the Bucs in easy field goal range to send the game into overtime.
As downright ugly as this game was, and it was Rosie O'Donnell ugly, the Bucs still had a good shot of winning.
Lovieball?
Lovie Disgusted With McCown's Turnovers
There is one thing Lovie never tires of referencing: His infamous basement in suburban Chicago. Second thing? Turnovers. He pounds in the Bucs' heads about getting takeaways — preaches, pleads, prods. Equally, he loathes turnovers.
So when McCown decided to play Curly Howard yesterday with the football, it galled Lovie to his core. Turnover ratio is Lovie's OBP. Bad enough the defense never got a turnover, especially one that could have won the game. What really added to Lovie's indigestion was his QB playing Santa Claus.
Mark Barron, Anyone?
Bucs safety Mark Barron is pretty solid against the run. That's great, but it wasn't why he was drafted seventh overall by former rock star general manager Mark Dominik. Barron was heralded as the potion to stop Saints tight end Jimmy Graham.
In potentially a horrible precursor Sunday, Stinking Panthers tight end Greg Olsen, no slouch himself, ran as free in the Bucs secondary as an Alaskan antelope. He had a touchdown and eight catches for a 10.4 yards per catch clip. And had Carolina quarterback Derek Anderson not overthrown him late, Olsen was wide freaking open around the eight yard line for what would have been another easy six.
Joe doesn't think it's overstating that we have seen enough of Barron to know that as good as he is against the run, he just simply isn't good in pass coverage. Maybe it is time to think about bringing in Keith Tandy or Major Wright on obvious passing downs?
Again, if Olsen can't be stopped, just imagine the field day Graham will have?
Mike Jenkins Is Mike Jenkins
Regular readers here know Joe was not happy about Lovie going out and getting Mike Jenkins. Then, after missing virtually all of training camp and preseason, Lovie toyed with keeping him as a starter, despite how well Johnthan Banks played.
Well, guessing training camp and preseason really do mean something. Jenkins got lit up yesterday by rookie Kelvin Benjamin, which got Lovie upset.
Maybe, Jenkins could have used a training camp or preseason? Or maybe, Mike Jenkins is just, you know, Mike Jenkins.
Calm Down Mike Glennon Mob
When McCown did that fumble/interception late in the third quarter, Joe openly called for McCown to be pulled. It was painfully clear his head was not in the game, and was costing the Bucs dearly.
After that pick, Joe focused his binoculars on backup quarterback Mike Glennon to see if he was going to take off his cap and begin throwing. Instead, he sat next to McCown and chatted with him for a length of time.
Afterwards, Glennon told Joe there was zero talk about putting him in the game, despite how dreadful McCown was playing. Instead, Glennon said, he tried to keep McCown fired up and they both discussed normal quarterback subjects like what to call and use against certain looks, etc.
Jeff Tedford And His Medical Leave
Last week, Joe was told that not having offensive coordinator Jeff Tedford around the building would be an "obstacle" the team would overcome while Tedford recuperated from a stent procedure.
Well, yesterday, every player Joe talked to claimed Tedford's minimal contact with the team recently did not hurt their gameplan. Doug Martin was adamant about that.
Joe isn't buying it.
Sure, the players are going to be team-first and deny it. However, if Tedford's coaching-by-telecommuting truly was no big deal, that tells Joe that Tedford's position is a glorified figurehead position and he really isn't needed. If a guy isn't needed, then it is no big deal if he is around or not.
Fat chance of anyone fessing up to such a theory at One Buc Palace. Despite the spin, Tedford's medical leave of absence hurt the Bucs. The last time Joe heard of a coach trying to do his job from home, it was Joe Paterno in his last couple of years, when he spent most of his day before practice at home watching film and not at his office. It was widely understood then that his coordinators were running the show with Paterno offering input.
Is There A Pass Rusher In The House?
Lovie loves to run a Tampa-2 defense. One critical aspect to making the defense work is pressure on the quarterback. And just like his hand-picked quarterback, Lovie's hand-picked pass rusher, Michael Johnson, was a virtual no show.
Oh, Johnson was on the field all right. You wouldn't know it by how he never came close to sneezing on a quarterback.
Rag on the offensive line if you will. Kvetch about McCown, but this team is in trouble if they cannot find a way to spring loose Johnson. He was brought in to rush the passer. He is being paid handsomely to rush the passer. It's time for him to actually, you know, once or twice a game, pretend to be a pass rusher.
NFL Thoughts:
Seahawks: Man, did Mike McCarthy play right into the hands of the Seahawks? So even though McCarthy has a Hall of Fame quarterback, he wouldn't even have Aaron Rodgers throw to Richard Sherman's side of the field?
Not saying Sherman is bad, but geez, you are basically giving a third of the field away to your opponent. You don't trust Rodgers to throw at Sherman, not once? Pathetic.
Dixie Chicks: So here we were ready to shovel dirt into the faces of the Dixie Chicks, and they go out and beat the Saints in the game of the day. In overtime. Matty Ice throws for 448 yards, a franchise record. Yeah, the Dixie Chicks are dead. Right.
Bengals: Andy Dalton beats the Baltimore Crows with his arm. Joe just loves the people who rag on Dalton. All he does is win. Of course, stat geeks don't factor in wins in their statistical gibberish, the most important stat of them all and really the only one that matters.
Bills: Ugh. The Bears defense must be downright awful if the Bungling Bills can beat you. And what about this vaunted Bears offense?
Texans: Yes, Houston may have won, but Jadeveon Clowney hurt his knee in the first half. There's a whole lotta people holding their breath in southeastern Texas now.
Titans: So the Titans get a quarterback coach for a head coach and Jake Locker has a nice game in beating a playoff team from last year. Funny how that works, eh? No surprise the Chiefs are coming back down to earth from last year's success.
Dolphins: BUHAHAHAHAHAHAHA. Bill Belicheat got beat in Week One. A good rushing attack, timely passes and a stout defense will do wonders for a team.
Jets: Just like the Jets. Got one big play in the fourth quarter to squeak out an opening-week win. This time Chris Ivory had a 71-yard run for a score to put the Jets over the top.
Eagles: What a turnaround. Losing 17-0 at halftime, Chip Kelly's team blew out the Jags in the second half. That is pretty impressive.
Steelers: Typical Ben Roethlisberger. In the final seconds, he pulls out a game-winning drive. The Steelers defense is really bad. They chocked away a 24-point lead to the hapless Browns. Yikes.
Vikings: A receiver turned into Adrian Peterson for the men of purple. Oh, the Rams? They are now on their third string quarterback as Shaun Hill got hurt in the first half after playing dreadfully.
49ers: Is this really a surprise that the 49ers won? Cowboys quarterback Tony Romo had three picks (bet none of them were just tossed in the air like the stunts McCown pulled).
Broncos: Peyton Manning wins a home-opener. Yawn. What Joe found more interesting is that Andrew Luck, with a lesser team than what Manning works with, brought the Colts back from the dead, outscoring Denver 17-7 in the second half, nearly pulling off an upset.
Non-NFL Thoughts:
1. Saturday was the first time Joe got to watch wall-to-wall college football, as he is wont to do from the comfort of his leather couch. From noon to past midnight, Joe soaked in the college football. Yes, Joe finished his day watching Texas Tech at UTEP. Yes, Joe might need to seek counseling. Damn, Joe loves football.
2. Joe found it more than interesting that mere hours after an average showing on offense by Florida State, in a nail-biter over Oklahoma State in which the Seminoles didn't seem to have a No. 2 receiver, Seminoles chieftain Jimbo Fisher lifted the suspension of scooter thief/wide receiver Jesus Bobo Wilson. Welp.
The reaction? Crickets. Contrast that to the firestorm embattled Will Muschamp ignited when he lifted the one-game suspension of three players who didn't play in the rain-canceled Idaho game. Guess winning a national title gives you a pass.
3. Joe has made it clear he grew up in the cornfields of Illinois. Grew up watching B1G football; rooting for B1G football. Joe still watches B1G football (though clearly the SEC is superior) and is totally appalled at how far that conference has sunk. Since Lloyd Carr grew old, Joe Paterno grew senile and Jim Tressel grew crooked, that conference is a flat embarrassment. Right now the B1G is nothing more than an over-marketed MAC. There are tons of reasons for this but what it comes down to – and Joe can speak with a modicum of authority since he is from there – that folks up there don't have a passion for football like people in the South. In the B1G states, football is more an NFL following than college. And both colleges and high schools don't elevate football to the status schools do in the SEC, Big XII and, to a lesser degree, the ACC. Simply put, football is not a priority it is in these parts. Not even close. (For example, last winter Joe was talking to an old friend who is a sports nut. He had never heard of Jameis Winston before. That should tell you how little folks there care about college football.) States up north do not have spring football in high schools. If you add up the weeks players in the South have in spring football, essentially, they are playing five seasons of high school football in four years. That is a major difference. For Joe's readers who played high school football, think how much better you would have been if you had one more year of high school football.
Until the B1G starts raiding southern schools for superior coaches, stealing high school players from the South, paying coaches commensurate salaries and developing a passion for football like those in the lower states, the B1G will more and more look like the MAC.
4. If Joe had to pick a front-runner for the Heisman Trophy, it would be sophomore quarterback Kenny Hill of Texas A&M. Lordy, that kid is good.
5. Mark it down now: Florida State is going to have its hands full with Clemson in two weeks. That is not even remotely a gimme win for the Seminoles like last year.
6. Joe doesn't know what to make of Notre Dame waxing Michigan. Beating up on a B1G team this year isn't something to boast about. That's like beating up a middle school kid.
7. Same with Virginia Tech over Ohio State.
8. Right now no team impresses Joe more than Texas A&M. But who the hell have they played?
9. Great game this weekend: Georgia at South Carolina. Joe is going to guess the ol' ball coach isn't going to get embarrassed in consecutive SEC games.
10a. How refreshing is it that it appears both the Yankmees and the Blow Sox will each be left outside during the baseball playoffs? YES!
10b. Oh, and the Redbirds seem to have taken control of the National League Central despite all of their hitting problems and injuries to pitchers. Now that Michael Wacha and Yadi Molina are healthy, look out.