Jackson Is Droppping His Way Out Of Tampa
September 19th, 2014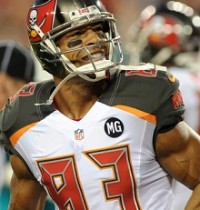 Once upon a time, Vincent Jackson signed a five-year, $55,555,555 contract as a tribute to his new quarterback, Josh Freeman, good ol' No. 5.
How cute.
Freeman rewarded V-Jax by throwing him the ball deep and often. And V-Jax was near flawless en route to the 2012 Pro Bowl.
Jackson was strong last year, too, with a few exceptions.
But this season V-Jax has been awful. Joe's about to start calling him V-Drops. The NFL doesn't keep official stats on dropped balls, but Jackson has five or six.
That's completely unacceptable from a team captain making massive, No. 1-receiver money.  Jackson has caught just 10 balls in all for 102 yards.
There's no way the Bucs will continue to pay 31-year-old Jackson (32 in January) unless he has a massive turnaround over the next few months.
It's just that simple. Jackson is at the end of the Tampa Bay line. He's not worth the money to this team. Right now, he's Darrelle Revis minus the on-field performance.
Jackson, though, may be worth his current investment for another club. If Joe were seeking to trade a commodity that could actually fetch something on the open market, and free up big cap revenue in 2015, then Jackson would top the list.
Yes, it has come to this. Bucs fans and management have to start thinking about next season.