"The Gronk-Type Running Skills"
September 9th, 2014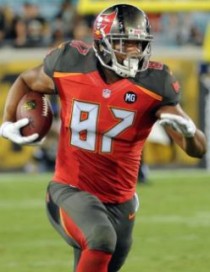 Nothing quite like film study to get Joe aroused. It's not cheerleader arousal, but still fun nonetheless.
Remember that big catch and run by rookie tight end Austin Seferian-Jenkins on the Bucs' opening offensive series Sunday?
Well, it's all broken down fantastically for you here in a new Xs and Os segment by former tight end Anthony Becht for Buccaneers.com. Check out the link. You'll love it.
Becht breaks down the 26-yard catch by the young manbeast over the middle, and you get a good look at his "Gronk-type running skills," as Becht calls them. Josh McCown also deserves kudos for a great throw. Close observers also will note that either Mike Evans or Doug Martin did not run a precise route for the play. Martin is way to close to Evans.
Last night on Total Access on WDAE-AM 620, Lovie Smith lamented how Seferian-Jenkins hurt his ankle early in the game and was limited the rest of the way.
Lovie was glad, however, that Seferian-Jenkins got a big play and stressed the importance of getting rookies involved and successful early in their first season.
The head coach was very clear that his rookie tight end will be a big a critical component to the Bucs winning games this season. That play was just a tiny taste.