"The Prototype" Gets Cut; Larry English Signed
September 9th, 2014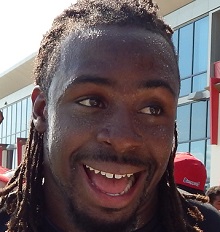 About 100 days ago, Lovie Smith sized up Steven Means as "that prototype guy" while talking about defensive ends for his system.
Now, Means is a former Buccaneer.
The Bucs cut Means today and signed veteran free agent defensive end Larry English. A notorious first-round bust of the Chargers from the 2009 draft, English was with Tampa Bay for much of preseason. As a veteran, his contract his contract will not be guaranteed as he was signed in Week 2 of the season.
Means, a fifth-round pick last year, played a few snaps Sunday, whereas Scott Solomon played about 40 percent of the snaps as a rotational defensive end.
Joe wouldn't be surprised if Means clears waivers and the Bucs put him on the practice squad.