Crazy Week For Solomon Patton
September 9th, 2014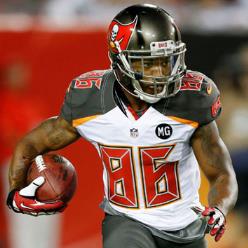 Last Sunday, Solomon Patton was one of the very few bright spots on the field for the Bucs in a debacle loss to the Stinking Panthers. He averaged 26 yards a kick return fielding only two.
A day before, he had no idea he would even play.
Sunday marked the end of a rollercoaster-span of eight days for Patton, where he was unsure where his next paycheck would come from, or his occupation.
Eight days prior to the opening game, Patton found out he was not on the final 53-man roster, though he thought he had a good shot.
"I was keeping count on how many guys they cut," Patton said of the final weeks of preseason "'Maybe I will be OK?' Then, I got the phone call."
And that phone call wasn't to invite Patton to a day of fishing in the Gulf. The phone call was from the turk. He was no longer a Bucs player.
That didn't last long. A few days later, Patton, surprisingly, cleared waivers. Even more surprising was yet another phone call from the Bucs on Saturday.
"When we had our walk-through Saturday morning, I left the facility and I got a phone call," Patton said. "That call was to inform Patton he was on the team's 53-man roster, would be active for Sunday and would return both kicks and punts.
"I just believed everything would work out," Patton said.
Currently, Patton said his goal, per the Bucs coaches, is to always get over 11 yards a punt return each time he touches the ball. Anything more than that is gravy. The NFL average is 9.4 yards, so if Patton to get 11 yards (or more) a punt return, that's quite good.
Patton noted it's not as easy as it sounds on paper. He echoed a theme former Bucs commander Greg Schiano told Joe last year, that punt return may be the toughest task in the NFL.
"It's a big job," Patton said. "You are the only one standing there you hope your guys hold up [on blocks]. You are looking at the ball and you have guys coming [after you] full speed. it is pretty tough, There's a lot to think about."
As for as his kick returns, Patton gives credit to the guys blocking for him.
"Everybody did a great job holding their blocks," Patton said. "It is all about making those blocks and about timing and we are getting on the same page with me catching the ball and the blocking.
"Everyday we work on the timing with both kickoff an punt return. It is all about timing."
And phone calls.